REGISTRATION
Registration opening soon.
Abhidharmakosha II: Treasury of Abhidharma
We are excited to announce Acharya Kelzang Wangdi's sixth year of teaching on Vasubandhu's Treasury of Higher Knowledge (Abhidharmakośa), based on the commentary by the Eighth Karmapa, Mikyo Dorje (1507-1554). This year completes this series of teachings, with the presentation of Chapter 9 on the selflessness of persons, the final chapter.
Ornament of Abhidharma: A Commentary on Vasubandhu's Abhidharmakośa by Chim Jampalyang, translated by Ian James Coghlan, 2019, Wisdom Publications
Jewels from the Treasury: Vasubandhu's Verses on the Treasury of Abhidharma and Its Commentary Youthful Play by the Ninth Karmapa Wangchuk Dorje, translated by David Karma Choephel, 2012, KTD Publications
DATES:
May 6 - May 27, 2022
Daily, with Saturdays off, except that class will be held on Saturday May 7, 2022.
Times:
7am - 9am and 11am - 1pm Pacific Time
COST: $100 (students and seniors $50)
Nitartha's Payment Plan and Financial Assistance (PPFA) program is funded by fellow students to support those who would not be able to attend the Institute's courses without this assistance. To request aid, please fill out the PPFA application before you register for the course.
LEARN WITH OUR RENOWNED FACULTY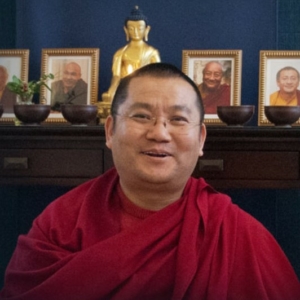 Acharya Kelzang Wangdi
VISITING ACHARYA
Acharya Lama Kelzang Wangdi is the resident lama and spiritual leader of Kamalashila Institute (https://kamalashila.de/en/home/), the European seat of His Holiness Ogyen Trinley Dorje near Cologne, Germany. Acharya Kelzang studied at the Karma Shri Nalanda Institute at Rumtek Monastery in Sikkim from 1989 to 2001, where he obtained a master's degree in Buddhist philosophy and the academic title of Acharya. He began teaching junior students at Karma Shri Nalanda Institute already in 1995 and continued teaching there after graduation until 2003. He received many teachings from H.E. Gyaltsab Rinpoche, Sangye Nyenpa Rinpoche, and Dzogchen Pönlop Rinpoche on the doctrine and the practice of the buddhadharma. In the early part of 2004 Lama Kelzang Wangdi went to the USA to teach at Nitartha Institute, where he continues to teach once a year. Acharya Kelzang also teaches at various other Buddhist centers throughout Germany, France, Austria, and Switzerland.