REGISTRATION IS NOW OPEN!
DATES: Daily from May 6 to 27th (with days off on Saturdays May 14 and 21 )
7am-9am and 11am-1pm Pacific time
Abhidharmakosha II: Treasury of Abhidharma
We are excited to announce that Acharya Kelzang Wangdi has kindly agreed to teach again on Vasubandhu's Treasury of Higher Knowledge (Abhidharmakosha), based on the commentary by the Eighth Karmapa, Mikyo Dorje (1507-1554). Acharya Kelzang finished teaching the eight main chapters in 2021, and this year he will discuss Chapter 9, the final chapter, on the "Refutation of the Doctrine of a Self."
The purpose of the ninth chapter of Vasubandhu's Abhidharmakosha is to present, in detail, the refutation of a self and the explanation of how karmic action and result function in the absence of a self, specifically from the point of view of the Sautrāntika school. The chapter addresses important questions of how, in the absence of a self, moral responsibility is established, how the agency of action occurs, how to understand the recipient of a karmic action, and how can a result be derived from a previous action that lasted for only a single moment and then ceased.
The ninth chapter functions as an addendum to the entire text. Typically, only the first eight chapters of Vasubandhu's text are studied in Tibetan monastic colleges (shedra), since all eight form an integrated whole that are based on root verses with prose commentary. Chapter nine is a separate though deeply related exposition of its subject, written in straight prose without root verses. In chapters four (on karma) and five (on kleśas), Vasubandhu refers readers to the ninth chapter for further clarification of the teachings, thereby indicating its role of rounding out important details.
Acharya Kelzang will use Indian commentaries written by Yaśomitra, Purṇavārdana, and Śamathadeva, and the Tibetan commentary by Sakya Chokden. (These commentaries are not available in English translation.)
The course is open to all. However, given the specialized, detailed nature of these materials and the limited time, students who have not completed the Nitartha Institute intermediate curriculum are kindly requested to refrain from asking questions.
Chapter 9 of Sangpo, Lodrö (tr.), Vasubandhu. Abhidharmakośa-Bhāṣya of Vasubandhu: The Treasury of the Abhidharma and Its (Auto) Commentary. Translated by Louis de La Vallée Poussin, Lodrö Sangpo.
Chapter 9 of La Vallée Poussin, Louis de. Abhidharmakośabhāṣyam. Translated by Leo M. Pruden. 4 vols. Vol. vol. 1–4, Berkeley: Asian Humanities Press, 1988–1990.
Note: The Indian commentary by Saṃghabhadra that was translated into Tibetan, and the Tibetan commentaries by Eighth Karmapa, Mikyo Dorje (1507-1554), Chim Jampaiyang (died 1267), and Ju Mipham Rinpoche (1846-1912) do not include commentary on the ninth chapter.
DATES:
May 6 - May 27, 2022 (daily, with days off on Saturdays May 14 and 21)
Times:
7am - 9am and 11am - 1pm Pacific Time
COST: $100 (students and seniors $50)
Nitartha's Payment Plan and Financial Assistance (PPFA) program is funded by fellow students to support those who would not be able to attend the Institute's courses without this assistance. To request aid, please fill out the PPFA application before you register for the course.
LEARN WITH OUR RENOWNED FACULTY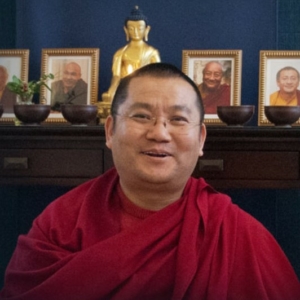 Acharya Kelzang Wangdi
VISITING ACHARYA
Acharya Lama Kelzang Wangdi is the resident lama and spiritual leader of Kamalashila Institute (https://kamalashila.de/en/home/), the European seat of His Holiness Ogyen Trinley Dorje near Cologne, Germany. Acharya Kelzang studied at the Karma Shri Nalanda Institute at Rumtek Monastery in Sikkim from 1989 to 2001, where he obtained a master's degree in Buddhist philosophy and the academic title of Acharya. He began teaching junior students at Karma Shri Nalanda Institute already in 1995 and continued teaching there after graduation until 2003. He received many teachings from H.E. Gyaltsab Rinpoche, Sangye Nyenpa Rinpoche, and Dzogchen Pönlop Rinpoche on the doctrine and the practice of the buddhadharma. In the early part of 2004 Lama Kelzang Wangdi went to the USA to teach at Nitartha Institute, where he continues to teach once a year. Acharya Kelzang also teaches at various other Buddhist centers throughout Germany, France, Austria, and Switzerland.