Buddhist Visual Literacy:
The Bodhisattva Ideal Throughout Asian Art
A joint offering by Nitartha Institute and Nalandabodhi Seattle.
Faculty: Stephanie Johnston
"Literacy" is the ability to interpret and create meaning from symbols in the form of letters and words. "Visual" extends the meaning beyond words and is based on the notion that pictures can be "read". Buddhist Visual Literacy (BVL) uses classic Buddhist teachings on perception and conception to unlock the power of Buddhist iconography and teaches us how to apply this new found literacy to connect with the Buddhist path.
Core Classes
Six core classes explore the foundation of BVL and apply its framework to the awakening and awakened qualities manifest in the great bodhisattvas. These six classes constitute the course's core and are suitable for those with an interest in the Buddhist path, symbolism, iconography, Buddhist art history, and with an inquisitive bent towards the riddle of living.
Supplementary Classes
Three supplementary classes enhance the core presentations using Kagyu and Nyingma shedra studies, such as those offered by Nitartha Institute. In particular, we will dig into the core class themes using teachings on seeming and ultimate realities, valid cognition, buddha nature, paths and bhumis, and clear thinking.
When: A nine-part series on Thursdays 9am Pacific Time (6pm Central European Time), March 3 - April 28, 2022
To register click here, where you can also find more details, including scholarship information.
Cost:
Sponsor $220
Regular $165
Discount $90
Explore questions about the great bodhisattvas:

Why, what, when and why are they?

Are they relevant on a personal and practice level, and if so how?

How do the artistic representations of the bodhisattvas differ by culture and eras?

Do these differences affect the qualities being conveyed?

What does bodhisattva look like in this day and age?

Unpack the qualities represented by the great bodhisattvas with special emphasis on the embodiments of wisdom, compassion and power.
Engage in visual analysis using Buddhist methods associated with valid cognition, and current museum practices, to explore how we create meaning and symbolism.
Analyze how symbolism impacts the choices we make -- consciously or not.
Use symbols to uncover and activate inherent bodhisattva qualities of wisdom, compassion and power at a personal level --freshly and in creatively applied ways.
LEARN WITH OUR RENOWNED FACULTY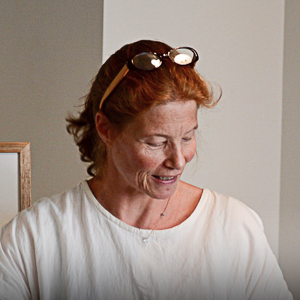 Stephanie Johnston
FACULTY
Stephanie Johnston, a Tibetan Buddhist practitioner since 1985 and student of Dzogchen Ponlop Rinpoche's since 1996, is Nitartha Institute faculty and developed its Science of Creativity and the Arts courses. As a graphic designer and avid practitioner, she trains and supports practice instructors for Nalandabodhi. An alumni of Nova Scotia College of Art and Design, and certified in Museum studies, Renaissance Art Techniques, and Graphic Design, she loves digging into the symbolic and its applied meaning in art and everyday life.